Communiqué of the International Migrants Alliance Founding Assembly
"For a long time, others spoke on our behalf. Now we speak for ourselves."
The message was clear: the time for the voice of the grassroots migrants has come with the resounding success of the International Migrants Alliance (IMA) founding assembly.
They came from all corners of the world. One hundred and sixty seven delegates representing 118 organizations from 25 countries participated in the founding assembly of the first international formation of grassroots migrants on June 15 and 16 in Hong Kong. Among these, 102 were present as founding members (regular and associate members) while 16 have come as observers. The assemblies also noted six organizations who have signified to become founding members but were unable to attend due to visa and financial issues.
In the spirit of international solidarity, the participants shared each other's experiences, learned from each other's actions, debated and reached unities that shall propel the IMA in its future programs.
Inputs from a battery of speakers who were mainly from grassroots organizations of migrants were helpful for the participants to arrive at common understanding of major issues that migrants face. After a painstaking process of finding common grounds, the basic principles of the IMA were firmed up.
With the approval of the IMA Constitution, the election of its leadership and first set of officers and the approval of the General Program of Action (GPOA), the IMA was finally born.
United we shall break the chains of globalization

The first day of the assembly featured presentations on the different themes relevant to migrants.
Held at the City University of Hong Kong and co-organized by the Women Empowerment in Moslem Context of the Southeast Asia Research Center (WEMC-SEARC), the program was attended by more than 350 migrants including about 200 foreign workers – mostly domestic workers – from Hong Kong.
A well-applauded video that showed the situation that migrants face and why building the IMA is imperative opened the program. The crowd was moved, agitated and was put in high spirits to make the assembly a success.
As the names of the organizations attending the IMA were then called, it even heightened the atmosphere of the success of the assembly.
The Very Revd Andrew Chan, dean of the St. John's Cathedral and board member of the Mission for Migrant Workers (MFMW) and the Asia Pacific Mission for Migrants (APMM) that are both based in Hong Kong, welcomed all the delegates and bid the conference to achieve its aims.
Afterwards, renowned advocate for migrants, Dr. Irene Fernandez of Tenaganita (Women's Force) delivered the keynote address to the assembly. She expounded on the global context of the current migration process, how these processes have changed and were shaped by the developments of the global capitalist system, as well as the increased forced migration, especially of women.
She also took note of the apparent debate between the right to migrate against the right of people against displacement. She said that such was a false debate, imposed by people with a superficial understanding of what it means to be a migrant. "Free movement and the right not to be displaced, are two essential elements to the assertion of collective and individual self-determination," Fernandez explained.
Finally, Dr. Fernandez congratulated all the delegates of the IMA as she also called for revolutionary changes "to break these chains of global exploitation and oppression."
Dr. Fernandez's address was then followed by a battery of panel speakers.
The first panel consisted of noted anti-globalization activists who elaborated on the theme of Wages, Job Security, Remittances and GATS Mode-4. These topics were elaborated on by Mr. Aziz Choudry of the GATT watchdog and MR. Sonny Africa of the respected research think-tank Ibon Philippines. The presentation of Mr. Jose Gonzales of Frente Indígena de Organizaciones Binacionales gave a concrete face to the ill-effects of globalization as he expounded on the situation of migrant agricultural workers coming from Mexico.
In the second panel that focused on the War on Terror, Immigration and Refugees and the Criminalization of Undocumented Migrants, speakers that included Ms. Sarwat Viqar of the Center for Philippine Concerns in Canada, Mr. Ufuk Berdan of the Federation of of Turkish Workers in Europe and Mr. Terence Valen of the Filipino Community Center in the United States discussed how the US-led war on terror has eroded the rights of migrants especially with many anti-migrant policies. Mr. Ramon Bultron of the APMM meanwhile expounded on the general situation that faces the undocumented migrants and their different concerns.
Afterwards, Filipino migrants in Hong Kong from the Cordillera region in the Philippines presented a short play that depicted, in a "Torch Relay" the history of the struggle of Filipino migrants in Hong Kong.
The third panel was composed of regional and national women leaders who talked about violence against women, trafficking and globalization. Speakers were Ms. Emmi de Jesus of the militant women's group Gabriela in the Philippines, Ms. Asfinawati of Asia Pacific forum on Women, Law and Development (APWLD) and Hsiao-Chuan Hsia of the Trans Asia Sisters Association of Taiwan (TASAT) which is an organization of immigrant brides in Taiwan.
The last panel of the day tackled the issue of Health, Family and the Social Costs of Forced Migration. Speakers for the panel were Ms. Valentina Soe of the regional group CARAM-Asia, activists from Australia Ms. Vivi Germanos-Koutsounadis of the Greek Orthodox Community of the New South Wales and Ms. Jane Brock-Corpus of the Immigrant Women Speakout Association, Prof. Robyn Rodriquez of Philippine Forum and the National Alliance for Filipino Concerns in the US, and Mr. Syamsul of SEKBER-BMI which is an organization of returned migrants and families of migrant workers in Indonesia.
In the evening, the IMA delegates discussed and approved the IMA's Basis of Unity that shall serve as the Alliance's guiding principles in its work and activities in the future.
United in one stand, firm and resolute

On the second day, the panel that tackled Organizing, Building of Alliances and Campaign Strategies was held. Panel speakers were all grassroots migrant leaders from different countries – Ms. Connie Bragas-Regalado of Migrante International in the Philippines, Ms. Teresa Gutierrez of the May 1
st
Coalition for Immgirant and Worker Rights in the US, Ms. Wol San Liem of the Migrants' Trade Union (MTU) in Korea and Ms. Eni Lestari of the Asian Migrant's Coordinating Body (AMCB).
The panel presentations became very important inputs in the finalization of the Alliance's Constitution and General Program of Action.
Plans included in the GPOA included activities and programs for education and information, campaign and mobilization that will pick up from the IMA concerns expressed in the panel topics, international advocacy including challenging the Global Forum on Migration and Development (GFMD) in the Philippines this October, and expansion of the Alliance including the formation of country chapters and recruitment of more members from the regions of Africa and Latin America.
The finalization of the IMA's GPOA elated the delegates as it provided the roadmap of what the IMA wishes to to achieve for the next three years.
To lead the IMA, members of the International Coordinating Body (ICB) were chosen by the different global regions as well as elected at-large.
To ensure that global regions are represented in the IMA leadership, regional caucuses were held to elect their representatives to the ICB. Among them were Jose Gonzales of FIOB for Latin America, Teresa Gutierrez of May 1
st
Coalition for Immigrant and Worker Rights for the USA, Sol Pajadura of Migrante-Ontario for Canada, Mr. Ramesh Pandit of Nepalese Labour Organization for South Asia, Mr. Ufuk Berdan of ATIK for Europe, Mr. Nhel Morona for Middle East and Africa and Dr. Irene Fernandez for East Asia and Oceania.
Among those ICB members elected at-large were: Ms. Tess Tesalona of Immigrant Workers Center, Canada; Prof. Robyn Rodriquez of Philippine Forum, USA; Ms. Rumana Sheikh of BOMSA, Bangladesh; Ms. Grace Punongbayan of MIGRANTE-Europe; Ms. Eni Lestari of AMCB,HK; Mr. Ali of Federation of Workers from Turkey in Switzerland; Hsiao-Chuan Hsia of Taiwan; Ms. Connie Bragas-Regalado of Migrante-International, Philippines.
Associate members that comprised NGOs and migrant-serving institutions also selected among themselves two members who will sit as ex officio members to the ICB – Ms. Wahu Kaara of Kenya Debt Relief Network and Mr. Ramon Bultron of the Asia-Pacific Mission for Migrants (APMM). Ms. Kaara vowed to assist the IMA in its priority of expanding membership in the African region.
These seventeen members comprised the newly-constituted ICB of the IMA.
The ICB then elected among themselves officers of the executive committee.
Elected members of the executive committee were: Eni Lestari of AMCB-HK, chairperson; Ufuk Berdan of ATIK-Europe, vice chairperson; Connie Bragas-Regalado of Migrante-Philippines, secretary-general; Teresa Gutierrez of the May 1
st
Coalition for Immigrant and Worker Rights in USA, deputy secretary-general, and; Tess Tesalona of Immigrant Workers Center in Canada, Treasurer.
Migrants on the march, onward we shall move

The establishment of the IMA marked a historic chapter in the movement of migrants and immigrants for rights and welfare and for comprehensive social change.
It was a timely effort of the migrants of the world to forge a stronger and higher unity in the face of daunting problems and issues that worsen the exploitation and oppression of the migrants.
Indeed it is now time to "speak for ourselves."
For we are the migrants forced to leave our countries and families. We are the ones displaced by poverty, political persecution, war on terror, economic hardships and other social ills perpetuated by imperialist globalization.
We are the grassroots migrants. With our solidarity, we shall speak and we shall fight to gain more victories. #
IMA Founding Assembly Participating Organizations

Regular Members (70)*

Australia(6):
Gabriela Australia, Greek Orthodox Community of New South Wales, Immigrant Women's Speak Out Association-Australia, Migrante Perth, Migrante Sydney Neighborhood – Inner West of Sydney, Migrante-Melbourne.
Austria (1):
AYIGF-Federation of Workers from Turkey in Austria.
Bangladesh (2):
Bangladeshi Ovibashi Mohila Sramik Association, IMA Research Foundation.
Canada (6):
Migrante Ontario, Pilipinong Migrante sa Canada, Pinay, South Asian Women's Community Center, Ugnayan ng Kabataang Pilipino sa Canada, Immigrant Workers Centre.
Denmark (1):
Ugnayan sa Radyo Pinoy.
Germany (3):
ATIK-Confederation of Workers from Turkey in Europe, ATIK-Yeni Kadin Woman Commission Germany, ATIF-Federation of Workers from Turkey in Germany.
Hong Kong (16):
Abra Tinguian Ilocano Society, Asian Migrants Coordinating Body, Asosiasi Tenaga Kerja Indonesia, Association of Concerned Filipinos, Association of Sri Lankans, Cordillera Alliance, Filipino Migrant Workers Union, Filipino Women Migrant Workers Association, Friends of Bethune House, Mission Volunteers (MOVERS), PILAR, Pinatud A Saleng Ti Umili, Thai Regional Alliance, United Filipinos in Hong Kong, LIKHA, PIC Choir.
Indonesia (1):
SEKBER - Family of Migrants.
Italy (1):
UMANGAT.
Japan (4):
Filipina Circle for Advancement and Progress (FICAP), KAFIN, KAFIN-Tokyo Akishima, Philippine Women's League of Japan.
Korea (2):
KASAMMAKO, New Era Foundation.
Macau (2):
ATKI Macau, Migrante Macau.
Malaysia (2):
Nepalese Labor Organization, TENAGANITA.
The Netherlands (2):
HITIF-Federation of Workers from Turkey in Holland, Migrante Europe.
New Zealand (1):
MIGRANTE-New Zealand.
Philippines (2):
Migrante International, Coalition of Agricultural Workers Internonational.
Switzerland (1):
ITIF-Federation of Workers from Turkey in Switzerland.
Taiwan (3):
Migrante – Taiwan, Trans-Asia Sisters Association of Taiwan, Taiwan International Workers Association.
United Kingdom (3):
Migrante UK, Tohum Cultural Center, YDG-Europe.
United Arab Emirates (1):
Migrante UAE.
United States of America (10):
Anakbayan Los Angeles, Anakbayan New York New Jersey, BAYAN-USA, Frente Indígena de Organizaciones Binacionales, Habi Arts, Bayan USA, May 1st Coalition for Immigrant and Workers Rights, Movement of Action, Inspiring Service (MAIZ), Philippine Forum, Migrante New York, Chelsea Uniting Against the War.
Associate Members (32)

Australia (3):
Australia Asia Workers Link, Philippine Australia Solidarity Association, Work@Justice.
Canada (5):
CATTA, Centre for People's Concerns (CAP-CPC), Movement Against Rape and Incest, Philippines-Canada Solidarity for Human Rights, Women of Diverse Origins for March 8.
Hong Kong (6):
Asia Pacific Mission for Migrants, Asian Students Association, Bethune House Migrant Women's Refuge, ENGENDER Hong Kong, Mission For Migrant Workers (HK) Society, St John's Cathedral HIV Education Centre.
Indonesia (1):
Indies.
India (1):
Sahanivasa.
Japan (1):
Filipino Migrants Center.
Kenya (1):
Kenya Debt Relief Network.
Malaysia (2):
CARAM – Asia, Pesticide Action Network – Asia Pacific.
Pakistan (1):
Roots for Equity.
Philippines (7):
Alliance of Health Workers, Center for Women's Resources, GABRIELA, IBON, Institute of Political Economy (IPE), Solidarity and People's Advocacy Network, Student Christian Movement of the Philippines.
Taiwan (2):
Labor Rights Association, New Immigrants Labor Rights Association.
Thailand (1):
Asia Pacific Forum on Women, Law and Development.
United States of America (1):
Filipino Community Center-San Francisco
Observers (16)

Australia (2):
Asian Women at Work, Researchers from the University of Sydney.
Canada (1):
Vancouver Bus Riders Association.
Hong Kong (3):
World Student Christian Federation Asia Pacific, Hong Kong Confederation of Trade Unions, Asian Monitor Resource Centre.
Indonesia (2):
Partisan Foundation, Solidaritas Perempuan.
Japan (3):
Asia Wide Campaign (AWC-Japan), Global Collaboration Center, Japanese Filipino Children's Network.
Korea (1):
Migrants Trade Union.
New Zealand (1):
GATT-Watchdog.
Philippines (1):
Gabriela Women's Party.
Thailand (1):
Global Alliance Against Trafficking of Women.
United States of America (1):
Critical Filipino Studies Collective.
*Six organizations who were not present during the assembly but signified their intent to join the IMA as regular members are: Japan (3) – DUYAN, League of Filipino Seniors, Philippine Society in Japan. Kingdom of Saudi Arabia (2): Kapatiran sa Gitnang Silangan-Migrante Al Jouf, Migrante-Jeddah-KSA. Korea (1): Migrant Workers Television South Korea (MWTV).

================================
International Migrants Alliance
The first-ever global alliance of grassroots associations, organizations, unions,
networks and alliances of migrant workers, immigrants, refugees and displaced peoples
Founding Assembly - June 2008
Email:
ima.june2008@gmail.com
Contact the IMA Secretariat at
ima.sect@gmail.com
================================
US Delegation at the International Migrants Alliance Founding Assembly
(Terrence Valen of Filipino Community Center-San Francisco, Terry Cervas of Habi Arts-LA, Cling Corotan of Migrante-New York, Bev Tang of Anakbayan LA, Bill Doares of May 1st Coalition, Adriana Garcia of MAIZ-Movement of Action Inspiring Service, Teresa Gutierrez of May 1st Coalition & Jonna Baldres of Anakbayan New York/New Jersey)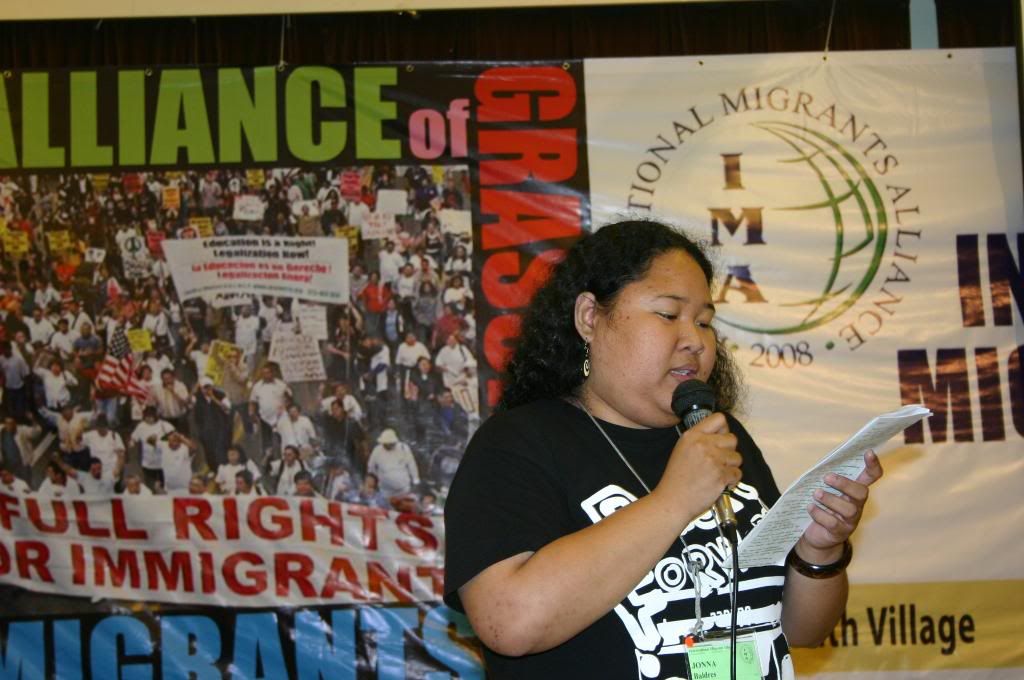 Jonna Baldres of Anakbayan NY/NJ reads a poem during the IMA Solidarity Night (Photo courtesy of IMA)